Is anyone else sick of the National Organization of Marriage? Running around America like an emotional prepubescent teenager with nothing better to do than try to bully their beliefs down the throats of Americans who don't support their idiotic ideals.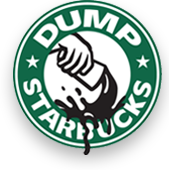 NOM began a new "crusade" against the unholy abominations or homosexuals and The Starbucks Coffee Company, intelligently coined the Dump Starbucks Campaign. NOM is calling for a boycott of the caffeinated giant after its recent siding with equality for its partners [Starbucks refers to it's employee's as "Partners"]. The website says,
"We are urging customers across the globe to 'Dump Starbucks' because it has taken a corporate-wide position that the definition of marriage between one man and one woman should be eliminated and that same-sex marriage should become equally 'normal'."
Pause, I'm so sick of this bullshit. Continue,
"As such, Starbucks has deeply offended at least half its US customers, and the vast majority of its international customers." (Continue Reading on NOMS page)
On NOM's blog yesterday they praised their followers for reaching 7,000 signatures to their petition. Wait, there is a problem with this statement though:
"As such, Starbucks has deeply offended at least half its US customers…"
Well, isn't that funny. I did some digging and stumbled upon a petition calling on Starbucks customers to thank them for remaining on their side of the issue. Thank them for not bowing to the bully. What makes me smile is as NOM is saying that Starbucks has offended half of its customers, Sumofus.com is showing 108,000 signatures for their petition. That's almost 10 times the amount that have signed up at NOM's website.
Now don't you just look like a big, fat, jackass?
I urge you to sign the petition. Their goal is set for 125,000 signatures, and they are well on their way. So go NOMNOMNOM on some yummy pastries or buy a cup of coffee from an organization that supports equality.
xoxo The Daily Lube.